Lake County, FL (January 26, 2019) - An unlicensed contractor in Lake City faces grand theft charges following an investigation of numerous statewide complaints.

Alex Ferguson was arrested on Friday, January 25th.   An investigation into Ferguson's business practices began in November 2017 when Martin Fuchs entered into a contract with Ferguson to make roof repairs at Fuchs' house.  Fuchs paid Ferguson $2,300 for the repairs, however, Ferguson failed to make any repairs and never returned to the house to do the work.

In addition, Ferguson was also implicated in a scheme where he took $15,000 to build a garage with a hurricane shelter.  He acted as a licensed contractor to bid for the project.  A subsequent investigation revealed that he did not hold a state license.

Ferguson was arrested Friday at the Osceola County Courthouse as he arrived to face a separate charge for driving on a suspended license.  He was booked into the Osceola County Jail on a $2,000 bond and later released.
Lake County Theft Crimes
A charge of grand theft in Florida is a felony.  Depending on the amount in question, the felony can range from a first-degree felony down to a third-degree felony.   Even a third-degree felony carries up to five years in state prison.  Along with prison time, anyone convicted of grand theft will obtain the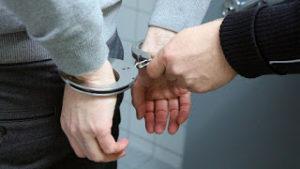 status as a convicted felon, prohibiting them from possessing or owning a firearm and disqualifying them from many future employment opportunities.

If you are facing a serious charge such as theft in Orlando and the surrounding area, you need an experienced attorney by your side at the earliest possible time.  At Musca Law, our Florida criminal defense attorneys are not afraid to challenge the case against you.  If necessary, we will take a case all the way to trial to achieve an appropriate result for our client.  In other cases, we will attempt to negotiate a favorable resolution with the prosecutor handling your charge.  Our goal is always to obtain the best possible outcome given the specific facts of the case.

We bring over 150 years of combined experience to the table and our firm is equipped to handle any type of serious theft crime or other felony charges.  For your free consultation, please call us any time at (888) 484-5057.