Lauderdale Lakes, FL (November 29, 2018) – A 33-year-old man is now facing charges after the shooting of a 13-year-old boy in Lauderdale Lakes that led to serious injuries.

Two students were initially involved in a fight at a nearby park. Deputies say that the suspect, Jimmie Terry, was called to the park around the area of the Sea Wind Lakes Apartments because of a phone call that he got indicating that someone he knew was involved in an altercation. Terry exchanged words with everybody involved, including a child. Deputies say that Terry then went down to the parking lot so the two could fight. The 13-year-old child walked toward the ensuing fight.

That's when witnesses say that Terry pulled out his gun and aimed at one of the teenagers involved in the fight.   He fired the gun but missed his intended target, accidentally hitting 13-year-old Evency Augustin who was running away from the fight but was behind the intended victim.  When Terry fired the gun, he missed his intended victim and accidentally struck the teenage boy as he ran away.  While Augustin was running to safety, he realized that he had been shot in the rear end.  He collapsed in a nearby parking lot and was rushed to the hospital by paramedics.

Terry immediately fled the scene but was soon apprehended by police who located him in his home close to the scene.  He was arrested for discharging a firearm in a public area and on charges of aggravated battery with a deadly weapon charge.
Lauderdale Lakes Aggravated Battery Laws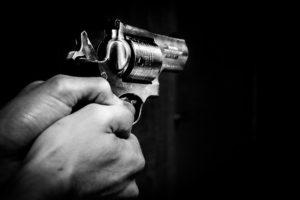 Any charges involving weapons will be viewed as violent crimes through the eyes of the Florida courts, which is why it is important to never stand alone as it applies to your case. Being charged with aggravated battery with a deadly weapon means that you could be facing a second-degree felony with a sentence maximum of 15 years and a $10,000 fine. If you have been accused or charged with any violent crimes in the past, these penalties could be even stricter.

If you have been charged with a violent crime, you will need an experienced and skilled Florida criminal defense attorney to represent you in court and throughout the entire legal process.  The attorneys at Musca Law understand how important it is for you to have an experienced criminal defense attorney who will provide a high level of personal service to you and help you retain your freedom during this difficult time. We want to help you obtain the best results.  Our violent crimes lawyers have a proven track record handling complicated cases. case results after you have been charged with a crime and help you move forward with a brighter future. Contact us today at (888) 484-5057 to find out how we can assist you.