Lee County, FL (January 21, 2019) – One person has been arrested as a suspect in a homicide investigation following a stabbing at the Fort Myers Beach Public Library. Police have officially arrested 36-year-old Adam Soules.

At the time that the incident occurred on Sunday, January 20th at 9 am, police arrived at the library and discovered that 69-year-old, Dr. Leroy Hommerding, who was the long-time director at the Fort Meyers Beach Public Library was killed in a fatal stabbing as he tried to open the library.  Coworkers said that the victim, Dr. Leroy Hommerding, was opening the library for a book sale that was supposed to have run through the entire weekend.  There were several witnesses to the attack.  

The library was closed and taped off for the remainder of the weekend. After the stabbing occurred,  Soules pulled the machete from the victim's body and fled the scene.  Several witnesses gave chase and followed him to a Topps Building where he ran up to the roof of the building. Witnesses surrounded the building until police arrive a few moments later.  Deputies were then able to catch up with him and place him under arrest.

Many people who knew Dr. Hommerding said that he was a key figure in the library being built five years ago.  The library was his vision that came to fruition.  He was loved by all who knew him.  

Adam Soules has been arrested on charges of second-degree homicide. He will be arraigned on February 18.  He is being held without bond.
Florida Homicide Laws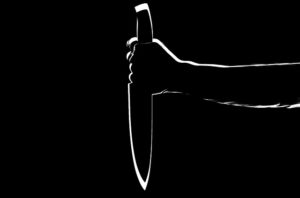 If you are facing charges for homicide, you might be feeling concerned about the severity of these charges and how it will compromise your future for years to come. These crimes are some of the most severe criminal offenses that a person can face, leaving you with consequences such as life in prison, the death penalty, or a variety of restrictions that can keep you from moving forward. We understand that your life is on the line, which is why our experienced attorneys with extensive knowledge in these violent Florida crimes will put our skills to use to help you achieve the best results possible.

Homicide charges are the some of the most serious charges that you will probably ever face which is why seeking a qualified criminal defense attorney as soon as possible will increase the chance that you will be able to overcome these present challenges. If you have been charged with the crime of homicide, it's imperative that you hire a qualified criminal defense team to represent you in your case.  At Musca Law, our criminal defense team will work with you to ensure that no stone is left unturned as we work to build the best possible defense to the charges against you.  We have worked with and successfully represented thousands of Florida residents who were facing serious criminal charges.  We can help you secure your future too.  Contact Musca Law to speak with an aggressive attorney who has the skills and resources to answer all of your questions at  (888) 484-5057.