Leesburg, FL (January 28, 2019) – This past week, one witness called the police in Leesburg after they saw a man strangling a woman outside of a guest room at a local hotel. Police arrived at the scene at 1115 West North Boulevard at the Rodeway Inn, which is where they made contact with the suspect, 57-year-old James Lowery Arthur.

When officers made contact with Arthur, they found that he had small amounts of blood on his hands, so they quickly detained him. When officers went into Room 217 and made contact with the woman, she seemed visibly distraught but declined treatment from EMS. She told officers that she and Arthur had been arguing over an incident that happened earlier in the evening.

Arthur suddenly punched her in the face and choked her until she wasn't able to breathe. Her nose started to bleed and she was coughing up blood. The woman also had swelling under her left eye and blood in her nostrils.

The witness said that he tried to confront Arthur when he saw him strangling the woman, but Arthur took a fighting stance and tried to punch him in the face. He only grazed the witness' chin.

When police took a closer look at video surveillance, they found Arthur throwing a punch at the woman and grabbing her by the neck to pull her back into the hotel room.

Arthur has since been charged with domestic battery by strangulation, battery, and assault on a police officer.
Leesburg Domestic Battery Laws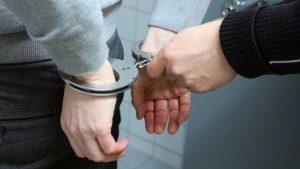 When violent crimes happen in Florida, especially between two people who live together, the state handles it very seriously. This means that, if you have been charged with one of these crimes, you could be facing serious penalties that will have life-altering effects on the way that you live your life. You might be frightened by the prospect of facing imprisonment, facing a loss of rights, and possession of a permanent criminal record. These charges can be especially daunting if you believe that you have been wrongfully accused of one of these crimes.

If you or a loved one has been charged with the crime of domestic violence, you need aggressive and skilled representation.  When it comes to representing those who have been charged with domestic violence crimes in Florida, our experienced and dedicated criminal defense attorneys at Musca Law are here to help. Not only have we handled many domestic violence charges in the past, but we understand the laws that dictate your case and can help you specifically with any potential penalties you might face. Call us today if you have been charged with a serious crime and need legal representation.  We have more than 150 years of combined criminal defense experience and want to put our knowledge to work for you.  Contact our firm today to speak with a lawyer about the charges you are facing and to find out how we can help you at (888) 484-5057.