Marion County, FL (January 24, 2019) – Police arrested 35-year-old Jacqueline Michelle Clark after seeing a video of her battering a man after becoming involved in an argument.

Clark, who works at a restaurant in the Villages, was arrested for domestic battery on Tuesday evening after she was caught on video striking a man several times in an altercation. Clark admitted to deputies that she took a cigarette out of the victim's hand but she said that she never struck him. The reason for the altercation was because she didn't see the victim for two weeks.

The victim came to the suspect's residence so that he could retrieve things that belonged to him. Police obtained video footage that showed the victim on the phone with 911 while Clark was throwing things that belonged to him out of a vehicle. Then, Clark struck the victim in the back of the head with a hanger and smacked him with an open hand.

Luckily, the victim was not injured in the incident. Clark was arrested for domestic battery but was released on her own recognizance.
Marion County Domestic Battery Laws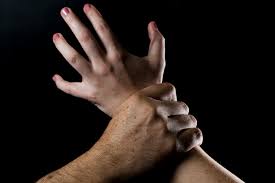 From the moment you are accused of a domestic violence crime, you might wonder how you can defend against these serious and life-changing charges. From the very start, you might be feeling afraid of how your case will be handled and what the other party will try to use against you as you work on defending yourself. Whether you have been wrongfully accused of domestic violence or you believe that the story being told isn't exactly what happened, you need a criminal defense attorney on your side who has handled these violent crimes in the past and knows how to build your defense so that you can avoid charges or have your case dismissed.

Because you could be facing serious consequences that could follow you through life after being charged with a domestic violence crime, our attorneys at Musca Law want to bring hope to your case and hopefully lessen your charges while working with you to avoid penalties such as jail time, fines, classes, and protection orders. Domestic violence crimes tend to bring 'mandatory penalties' that could affect your daily life such as intervention programs, required jail time, and other effects that could keep you from engaging in your daily lifestyle. Please do not hesitate to contact us to find out how we can assist you during this difficult time at (888) 484-5057. There is hope for you in your case.