Melbourne, FL (January 20, 2019) - A motorist is charged after he pointed a gun at a woman whom he said was driving "too slow."  The events occurred on Wednesday, January 16th in a residential area along Hereford Road.

Melbourne police say that 21-year-old Kevin Paul Wade was driving a silver BMW in the area when he passed another driver at a high rate of speed.  The driver, identified as a woman, says that Wade honked his horn as he drove past and pointed a gun at her.  There was also another occupant in Wade's vehicle at the time but it is not clear what, if any, role that individual played in the incident.

The woman reported the incident to police and Wade was arrested on Friday, January 18th. Wade told police that the woman was driving too slowly in front of him.  He was charged with assault with a deadly weapon without intent to kill.  Wade was booked into the Brevard County Jail on a $25,000 bond.  He posted bond and was released the same day.
Violent Crimes Involving Minors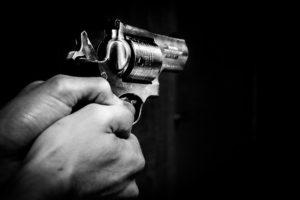 The use of a firearm in the commission of a violent crime will usually make a bad situation worse.  Under Section 784.021 of the Florida Statutes, assault with a deadly weapon without intent to kill is defined as a type of aggravated assault.  Under Florida law, an aggravated assault conviction is a third-degree felony that is punishable by up to five years in state prison.

In a case where a juvenile has been charged with a violent crime, you must retain the services of a skilled and experienced Florida criminal defense lawyer that has experience working with juvenile courts.  At Musca Law, we know that a good defense requires a full investigation of your case along with extensive knowledge of the law and the local court system.   Our attorneys bring over 150 years of combined experience in all types of Florida violent crimes.  We also have offices located in all areas throughout the state of Florida and we are familiar with how each type of case is routinely handled by local prosecutors offices.

We want to help you avoid the lifelong consequences of a serious criminal conviction.  Let us help you secure your future.  For a free consultation, please call anytime at (888) 484-5057.