Melbourne, FL (February 4, 2019) – Police arrested a man identified as 53-year-old Bernard Hardy for domestic battery and aggravated battery with a deadly weapon on Thursday following a dispute. Allegedly, Hardy struck a woman in the head with a brick during a heated argument.

Melbourne police responded to the incident around 11:30 a.m. after receiving a tip from a relative that a battery incident might be happening in his home. When officers arrived, they found Hardy standing with a woman who had extensive injuries to her head and face. She had a fully swollen eye and a laceration on her head.

Hardy said that the argument took place because, two days earlier, the woman had been drunk and threatened to break his window with a brick. Hardy said that he was trying to scare her by throwing a brick, but that he accidentally struck her in the process.

After the blow, Hardy said that the woman was unconscious and so he dragged her inside the home. The woman regained consciousness but refused to go to the hospital.

Hardy had apparently been previously convicted of battery and false imprisonment, as well as domestic battery a few years ago.
Melbourne Domestic Battery Laws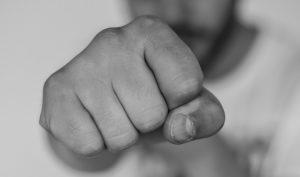 When the prosecutors or the judge in your case believes that you have used aggressive and intentional harm against another party, there is a good chance that you could be facing severe penalties for a violent Florida crime. Violent crimes are typically charged as felonies, which means that if you are convicted, you could be facing serious penalties and a record that will follow you through life. Domestic violence charges result if you have been accused of unlawfully touching a person classified as a family or household member. These consequences are seen as more heinous than your typical battery charges, which is why they are penalized so severely under the law. These crimes are usually charged as a first-degree misdemeanor with prison time, fines, and a batterer's intervention program in some cases. Being accused of domestic violence specifically can be a devastating and humiliating thing to face, but there is hope in your case.

At Musca Law, our lawyers have more than 150 years of combined criminal defense experience successfully representing Florida residents who have been charged with a serious crime.  If you have been charged with domestic battery, call our skilled and aggressive domestic violence attorneys today to discuss the charges against you and start creating a solid defense.  You have rights and protections under the law and need an experienced attorney from Musca Law on your side. Contact us to find out what we can do for you at (888) 484-5057.