Mount Dora, FL (January 14, 2019) – Police say that a female employee was arrested in the theft of a gift card that took place at the Walmart where she was working at the time.

A customer returned merchandise to a Walmart store and instead of cash, the employee gave the customer a store credit on a gift card.  The problem arose when the customer realized that they were given a blank gift card with no money on it.  That is when the customer returned to Walmart and notified the store of the situation.  When the loss prevention team and investigators looked into the matter, they discovered that the trail led back to 28-year-old Mary Edmond, an associate at the Walmart who made the initial return.

Deputies looked at surveillance video and found that Edmond kept the loaded gift card for herself and gave the customer one that was blank. Edmond then went and used the gift card to spend $567.86 at the store. Edmond admitted on Thursday that she took the customer's card.

Edmond has since been arrested on charges of grand theft and possession of a stolen card.
Mount Dora Grand Theft Laws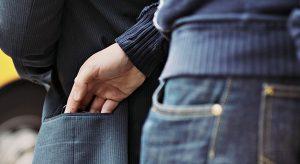 Theft crimes have been steadily increasing over the years in Florida, which is why these types of crimes are taken very seriously under Florida law. If you have been accused of one of these crimes, you need to secure specialized legal help on your side as soon as possible to avoid the serious penalties that can follow Florida theft crimes. The value of what has been stolen will typically determine the degree of the charges, as there are different types of theft charges based on the value of what was stolen.

Our attorneys at Musca Law have been successful in the past while defending a broad range of theft-related charges for those who have been accused. Depending on the particular case, you could be facing anywhere from a misdemeanor to a felony and your past record can also play a role in one of these cases. You might be terrified about your future and be worried about the fines and prison time, which is why it is important to turn to a dedicated criminal defense attorney who has proven case results for others they have helped in the past. Let us help you avoid a serious conviction that can affect your life. Give us a call today at (888) 484-5057.