Naples Bay, FL (December 7, 2018) – Craig Hudson was the captain of a boat when he hit a wake at a high rate of speed and launched into a boat dock. Police were able to determine that he had been boating while intoxicated.

Craig Hudson was out on a boat in the Naples Bay enjoying a day of fun in the sun with a female companion when he apparently hit a wave wake that sent his boat catapulting into a boat dock near Galleon Dr.    Witnesses said that they heard a loud noise outside their homes. They immediately ran outside, where they noticed that a boat had smashed into a dock.  The female boat passenger was trapped inside the wreckage. The woman was lying on her back and was trapped under a piece of iron.  

Hudson had been captaining the rental boat at the time of the crash but told deputies that he was not intoxicated at the time of the incident. Deputies conducted a breathalyzer and discovered that his BAC was .16  percent.  You must have a BAC under .o8 percent in order to legally operate a boat in the state of Florida.  Craig Hudson was arrested for charges of BUI (Boating Under the Influence).

The injured woman, Tara Jacobucci, was airlifted to a Lee Memorial Hospital's trauma center for her injuries and has been listed in stable condition since.
Naples Bay BUI Laws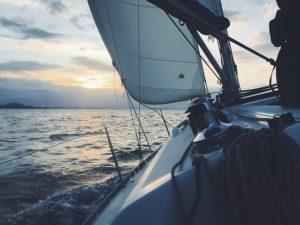 Many of the accidents involving boats and injuries take place due to the negligent acts of someone who was boating while under the influence. Especially in cases of a boating accident, a defendant could suffer severe penalties if they were boating while intoxicated and it led to serious injuries in another party. Boating under the influence in Florida is considered a serious and reckless offense with a fine of up to $1,000 and a maximum of six months in jail. This is why, if you have been charged with one of these crimes, you should always have an experienced criminal defense attorney on your side to help.

If you have been accused of a crime that occurred while you were intoxicated, there are many defenses that you might be able to bring to defend yourself in the midst of your case. At Musca Law, we have experience in every step of the criminal legal process, all the way from initial interrogations to trial. We work with our clients across Florida to ensure that your rights are always being protected and that we are consistent in your case. Contact us to find out how we can assist you at this time at (888) 484-5057.