Naples, FL (June 30, 2019) - A 71-year-old East Naples man was arrested on Thursday, June 27th after police say he produced a firearm and threatened employees at a car repair shop. 
According to the Collier County Sheriff's Office, Richard Sileo arrived at the Gerber Collision on Marco Island around 1:00 pm on June 19th.  Sileo approached a female employee and asked if she had over been shot with a bean bag gun.  He then reached into his shirt, produced a firearm and began waving it in front of employees, threatening to shoot them if he had to pay for additional car repairs.
Sileo then left the repair shop and entered a nearby Enterprise Rent-a-Car about 45 minutes after the initial incident.  Sileo pulled out a horse whip as well as a handgun and pointed the gun at the floor.   An employee at Enterprise also called the police to report Sileo's erratic behavior. 
Officers arrived on the scene and Sileo was arrested for aggravated battery with a deadly weapon.  There is no word on whether he remains in jail at this time.  
Naples Violent Crime Laws
In Florida, the crime of aggravated battery with a deadly weapon is a very serious felony.  Under Florida's violent crime sentencing laws, someone convicted of this charge could receive a mandatory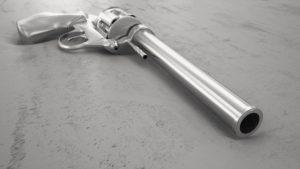 minimum 10-year prison sentence or more depending on whether the firearm was discharged during the commission of the offense.  In addition to a lengthy jail sentence, other penalties include probation, fines and the status of being a convicted felon.  
At Musca Law, our skilled and dedicated Florida criminal defense lawyers are here for you when you are facing a Florida violent crime charge.  We understand the serious consequences of these cases and can help you present a clear and convincing defense to eliminate or reduce the risks of being convicted of a violent crimes offense.  Our team has assisted thousands of people charged with crimes in Naples and throughout our state.  We understand prosecution strategies and will anticipate them for your benefit.
If you are facing a charge in Naples or anywhere throughout Collier County, our Naples criminal defense attorneys will have your back every step of the way.  For your free consultation, please give us a call any time at (888) 484-5057.