Naples, FL (April 28, 2019) - A man was arrested on Wednesday, April 25th in connection with a stabbing at a fast food restaurant in Naples.  The incident took place in the drive-through at Culver's.
 
The Collier County Sheriff's Office responded to Naples Community Hospital on Monday in reference to a victim with stabbing injuries. The victim told police that he was at the drive-through when he was approached by 58-year-old Michael Charles O'Conner.  O'Conner allegedly began yelling threats and expletives at the man.
 
O'Conner continued to yell at the man while cars proceeded through the drive-through and felt his car get hid from behind.  As he stepped out of the vehicle, O'Conner rushed towards him with a knife and began stabbing him.  Both men fought for about two minutes before the victim was able to get free.  He suffered hand injuries and was taken to a hospital for surgery.
 
Deputies were able to locate O'Conner two days later sleeping on his boat at Naples Landings.  Police arrested him in connection with the aggravated assault and seized two knives and t-shirts.  He was taken to Naples Jail and placed in custody.
Naples Violent Crimes Laws
Violent crimes in Naples are serious in nature and can carry harsh penalties upon conviction.  An aggravated assault is a third-degree felony that brings a prison sentence of up to five years and a fine of up to $5,000.  Being a convicted felon can place serious restrictions on your civil liberties, including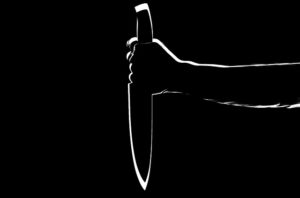 your ability to possess a firearm.  Your ability to secure gainful employment is sharply limited with a felony on your permanent criminal record.
 
If you have been charged with an assault or aggravated assault, it is important to obtain the best possible representation.  At Musca Law, our Naples criminal defense lawyers stand ready to protect your legal rights when you are facing a serious charge that threatens your future.  If you acted in self-defense or in defense of your property rights, you may have a complete defense to this type of charge.
 
We are here for you 24/7 and offer free consultations to all potential clients.  To speak with us nay time, please call (888) 484-5057.