New Port Richey, FL (May 22, 2019) – Police arrested 33-year-old Kenneth Charles Sorrells of Tampa on Sunday after he kicked his pregnant girlfriend in the head for denying his sexual advances.
Now, Sorrells is facing charges of aggravated assault, aggravated battery on a pregnant victim, and battery. The incident, according to authorities, happened around 6 a.m. at 6400 Bandura Avenue.
According to the victim, Sorrells kicked her in the head after she turned away from his sexual advances. She told police that she is pregnant. After kicking her, Sorrells started acting violent and breaking things around the house. A male friend of the two tried to intervene and police say that he beat him as well.
The victim attempted to get away from Sorrells but he chased her and kicked down the door of a bathroom where she had been hiding from him. He then threatened her with a broken bottle. The victim was able to get ahold of a pair of scissors and defended herself by stabbing Sorrells with them. Luckily, police intervened.
Sorrells is being held without bail at this time.
New Port Richey Aggravated Battery Laws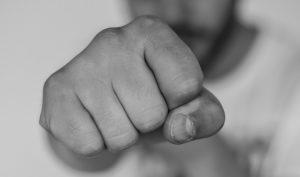 If you have been charged with aggravated battery on a pregnant victim or any type of battery against another individual, you know that you could be facing serious charges that could have a huge impact on the rest of your life. Any type of violent crime in New Port Richey and beyond could be classified as a felony depending on the circumstances, which means that you might find an impact on your career and social relationships that will be difficult to move forward from.
Luckily, our criminal defense attorneys at Musca Law understand how frightening it can be to face battery charges on your own, which is why we do not want you to ever feel as if you are standing alone during these challenging times. Whether you believe that you have been wrongfully accused of battery or another related crime, it is important to speak with an attorney as soon as possible. Please contact us for the help you deserve at (888) 484-5057.