New Port Richey, FL (April 30, 2019) – Police arrested 39-year-old Amber Lynnee Grace on domestic aggravated assault and domestic battery charges after she attacked a man. Grace then reported that she only attacked him in an attempt to sober him up.
Pasco deputies arrived at the scene around 1 a.m. on Sunday, April 28 on Hummingbird Lane in New Port Richey where they found that Grace had slapped the victim in the face when the two were arguing. The victim told police that he walked away from her and went to his bedroom after she assaulted him.
The victim told deputies that, several hours later, he woke up and found Grace standing over him with a kitchen knife raised above her head. Grace threateningly stabbed the bed with the knife and the victim said that he feared for his life.
Police found a slice in the bed sheets around the area where the victim had allegedly been lying. Grace confessed to police that she also slapped the victim, hoping that it would bring him out of his intoxication.
Grace has since been charged by police.
New Port Richey Domestic Battery Laws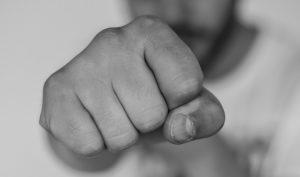 Being charged with a violent crime in New Port Richey can be a devastating and frightening charge, as you might be faced with severe penalties that can have a huge impact on the rest of your life. For instance, there is a social stigma that follows violent crime charges that makes it difficult to obtain employment and hold relationships with others. This is especially true when you have been charged with domestic battery against a loved one, which is seen by the courts as a heinous crime that takes place against family members.
Because we understand how difficult it can be to face the aftermath of a domestic battery crime, our attorneys at Musca Law are ready to stand by your side and help you build a defense that can be used to fight these serious penalties. In many cases, domestic battery crimes are sometimes formed through innocent circumstances that are taken out of context. You might find that you have been wrongfully accused of a crime and have been left on your own to defend yourself. Our attorneys are prepared to help you through this difficult time. Please contact us for more information at (888) 484-5057.