Newberry, FL (February 8, 2019) – A Newberry man identified as 54-year-old Thomas Lee Mathis Jr. was arrested after the sheriff's office discovered that he had beat his girlfriend so bad that she suffered from bleeding of the brain.

The woman was taken to the North Florida Emergency Room West End where medical staff treated her for a variety of serious injuries. An incident took place on Wednesday night where the woman was being attacked in the back parking lot of a Shell gas station on West Newberry Road.

The girlfriend went to the hospital after the attack on Wednesday and told medical staff that she had been suffering from a chronic headache after she attacked by Mathis in January the beating that she got on Wednesday only exacerbated the problem. The medical staff at the hospital where the victim was treated discovered that she had bleeding in the brain and injuries that were ruled as "severe" by doctors. The staff at West End ER contacted the Alauchua County Sheriff's Office to report the attack and injuries.

Mathis allegedly told his girlfriend that he was going to kill her and that she would be the reason that he goes to prison. Mathis has since been charged with aggravated battery and was taken to jail where his bond has been set at $90,000.
Newberry Aggravated Battery Laws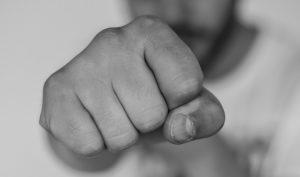 Violent crimes such as aggravated battery in Florida are seen as extremely malicious crimes and upheld seriously by judges and prosecutors. You might also find the unfortunate and frightening truth that many violent crimes in Florida are felonies, which means that they can carry lengthy prison sentences that can range from months to years and social impacts that can make it difficult to retain employment. This is why, if you are facing a violent crime charge in Florida, you must secure the best legal representation possible to help you through this time.

At Musca Law, our attorneys can assist you if you have been wrongfully accused of a battery crime or another violent crime and need help building a defense from the ground up. Our attorneys, who have over 150 years of combined experience in these crimes, are trained to look for the facts in your case and use them to your benefit at trial or negotiations. We will not back down from a challenge and will help you achieve case results you can rely on. Contact us to find out how we can assist you in your time of need at (888) 484-5057.