North Port, FL (January 19, 2019) - A man has been arrested in connection with the robbery of Domino's Pizza restaurant on Tuesday, January 15th.  18-year-old Trionte Bellamybey was arrested by officials with the Manatee County Sheriff's Office on Friday, January 18th.

The North Port Police Department says that two men entered the store on Tamiami Trail and brandished a gun.  Employees inside were held at gunpoint for about 20 minutes while the suspects carried out the robbery.  An undisclosed amount of money was taken before both men fled the scene.

Bellamybey was charged with several felonies, including Robbery with a Firearm, Kidnapping while Committing a Felony and Hindering or Preventing Victims from calling 911.  He was arrested and placed in the Manatee County Jail on a $1.35 million dollar bond.

An investigation into the case is ongoing.
Violent Crime Laws in North Port
In Florida, a robbery charge can land you in prison for a long time.  When a weapon is used during the course of a robbery or other violent crime, the punishment is often enhanced.   Robbery with a firearm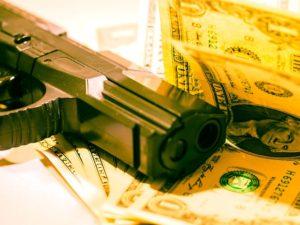 is defined as the unlawful taking of property from a person by force or violence while being in possession of a firearm. This crime is a first-degree felony under Florida's sentencing laws and a person who is convicted can face up to life in prison or, at a minimum, a lengthy prison term.  In addition, robbery and other violent crimes are often felonies, which carry lifelong consequences regardless of the length of the prison sentence.

At Musca Law, we understand how you feel when you are charged with a serious crime.  During this time, you are probably experiencing anxiety about your future and wondering if your life will ever be the same.  We will take a careful look at your case and will challenge the state's evidence against you.  Our Florida criminal defense attorneys will fight to preserve the important constitutional rights that you have, including the presumption of innocence.  We work to ensure that your future is protected.

Our team has over 150 years of combined experience and proven case results that you can count on.  For a free consultation, please contact us any time at (888) 484-5057.