Orlando, FL (December 20, 2018) – Authorities have arrested a Florida man who killed his wife and casually walked out of the home, leaving her body in the home so his four children would find her when they woke up.

Police say that 29-year-old Nelonza Pugh was arrested for murder and domestic violence in relation to to the death of his wife.  The entire incident was captured on the families video home surveillance system. The sheriff who was working on the case called it "another tragic instance of domestic violence" in the community.

The children who discovered their dead mother in the house ranged in ages ranged from 2-13-years-old.  The children called 911 to say that their mother was laying in a pool of blood surrounded by bullets.  The 911 operator instructed the four children to go into a room and lock themselves inside until police arrived.  The children told deputies that they heard a loud argument around 1 a.m. Then when they woke up around 8 am and found their mother dead in the home.

According to police, Pugh has an extensive arrest history with charges ranging from attempted second-degree murder to cocaine trafficking.  There had not been any previous domestic disputes between the couple in the past. 

Police investigations into the matter continue at this time.
Orlando Murder Laws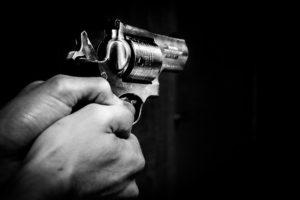 Being charged with a violent crime in Florida can be a difficult and life-changing experience. A Florida homicide crime could have a huge impact on the rest of your life and leave you with very few options, which is why it is imperative to have an experienced criminal defense attorney on your side.

If you are somebody who has recently been charged with a violent crime in Florida, our experienced defense attorneys are here for you to help you work toward getting the best results in your case. We want to help you gain a better understanding of the criminal legal process, from the interrogations to your actual trial, and build a defense from the ground up that will help you achieve results in your case. Let us help you understand your rights as you go through this complicated process. Contact us for more information at (888) 484-5057.