Orlando, FL (November 27, 2018) – In Orlando this morning, a man was accused of beating, raping, and stripping a woman of her clothing in the area of International Drive after claiming that he could show her a 'shortcut.'

31-year-old Joseph Thomas Paul Moore was arrested hours after the attack around 3:30 a.m. Police arrived on Universal Boulevard to speak with the woman, who said that the attack happened when she was assaulted in a field after walking back to her hotel from a Brickhouse Tavern. On the way back to the hotel, Moore started walking behind her and told her that he knew she was headed back to the hotel. He told her that he could show her a shortcut.

From there, Moore and the victim walked to an open field and he immediately punched her in the face. The victim said that she felt like she was going to die and was completely helpless during the attack. The woman told police that Moore enjoyed beating her. She fought back and even bit him but it wasn't enough to push him away.

The victim was soon able to stand up and run away, which prompted Moore to chase her until she made it all the way to another hotel. Now, the woman is working with investigators and remains in the hospital. Detectives followed leads to the wooded area and were able to locate Moore. He has been arrested on charges of sexual battery, false imprisonment, kidnapping, and more.
Orlando Sexual Battery Laws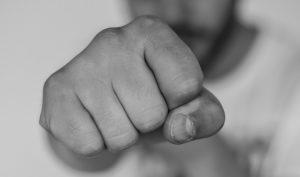 Sexual battery is any type of charge that includes unwanted sexual touching,  such as rape, groping, and a variety of other acts against a victim. To prove that the accused sexual predator committed a sexual battery crime, the prosecutor that handling that case must be able to show that accused engaged in a sexual act without the consent or capacity of a victim. If you are charged with one of these crimes, not only could you spend time in prison, but you could also have to register as a sexual offender for life and pay restitution to the victim depending on the circumstances of your case.

At Musca Law, we provide an aggressive criminal defense for those who have been accused of or charged with serious or even violent sex crimes. We pay close attention to the details of your case and help you provide a defense based on its strengths that help you get the results you were hoping for. Our attorneys have a combined experience of 150 years in criminal defense, so put your case in the hands of experienced and skilled attorneys who are willing to protect you. Contact us today at (888) 484-5057.