Palm Beach County, FL (March 9, 2019) - Police in Palm Beach County have arrested a man accused of punching another man over his beachfront wedding pictures. Officers say that 27-year-old Jeffery E. Alvord was arrested on Sunday, March 3rd.

Alvord, the groom, was taking wedding photographs on the beach when another man intervened in the pictures. Alvord allegedly offered the man $50 to move out of the way so that the pictures could be taken. The man refused to move, however, and Alvord punched him in the face, breaking his nose. Alvord told officers that the man was belligerent and threatening, causing him to throw the punch in self-defense. The victim, however, told officers that a groomsman held him while Alvord committed the attack.

Alvord was held in jail overnight before being released on Monday. His wedding took place after he was out of custody.
Palm Beach County Violent Crimes Laws
A violent crime conviction in Palm Beach County may cause life-altering outcomes. You could face jail time, probation, anger management classes and other court punishments that can restrict your freedom.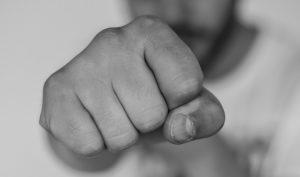 You may also suffer professional consequences such as the loss of a job if you are convicted of a Florida violent crime.

In cases involving physical attacks such as assault and battery, you should engage the services of a competent and experienced Florida criminal defense lawyer to help. At Musca Law, we will carefully examine your case for any defenses that might apply. In an assault or battery case, you could have a claim of self-defense that will completely exonerate you of all charges if your defense is properly presented to the court.

If you are facing a criminal charge in Palm Beach County, including Boca Raton, our Boca Raton criminal defense lawyers will have your back. Our phones are answered 24/7. For your free consultation, please contact us at (888) 484-5057.