Panama City, FL (August 3, 2019) - Two suspects have been arrested in connection with a homicide that took place in Panama City on Saturday, July 27th.  
According to reports, the body of 25-year-old Mark Thomas Jankiewicz of York, PA was found wrapped in a blanket near the boat ramp at the Hathaway Bridge.   Jankieiwicz was found with multiple puncture wounds indicating the presence of foul play.   According to the Bay County Sheriff's Office, Jankiewicz met up during the evening with 23-year-old Kayla Marie Kostick and 28-year-old Emilio Sifuenties Jack. 
Kostick became a suspect in the case and authorities were able to interview her.  During the interview, she revealed that Jack and Jankiewicz were involved in an altercation that ended when Jankiewicz was stabbed with two screwdrivers. Kostick further revealed that Jack had thrown the screwdrivers into the St. Andrews Bay.  
Police later arrested both Kostick and Jack.  Kostick faces a charge of Principal to Premeditated Murder while Jack is charged with Murder.
Panama City Beach Homicide Laws
Being charged with homicide in Florida means you are facing the toughest penalties provided by law.  A homicide charge can result in the prosecution seeking the death penalty or a life sentence in prison.  When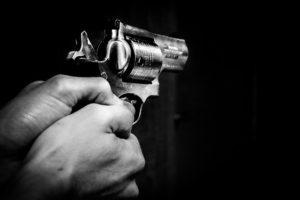 you are facing a murder charge, your entire life is literally at stake.  
At Musca Law, our Florida violent crimes attorneys are able to handle any type of case, including murder charges.  We have the skills, experience, and determination that is needed to take on the toughest cases and provide a vigorous defense when your liberty is at stake.  We will closely and carefully examine the specific circumstances of your case and will formulate a defense aimed to obtain the best possible outcome for you.
Our Panama City criminal defense lawyers are here for you when you need us the most.  For your free consultation, please give us a call any time at 888-484-5057.