Pinellas Park, Fl (November 21, 2018) – 40-year-old Corey Montego Small was charged with one count of second-degree murder and one count of a felon in possession of a firearm in connection to the murder of Lawrence Fagan after a late night argument.

According to the Pinellas Park Police Department, Mr. Small and Fagan were arguing at the Cedar Hollow Apartments, located at 7231 Cedar Court. A call came in just before midnight to the police station that a man was laying on the ground after the reported disturbance.

Police arrived at the scene with firefighter-paramedics from Pinellas Park where they found Mr. Fagan laying on the ground with several gunshot wounds on his body. Fagan was taken to the area hospital where he died.

After an investigation, detectives determined Small and Fagan were arguing inside an apartment in the complex prior to the shooting. The argument escalated, resulting in Fagan being shot multiple times.
Florida Violent Crime Laws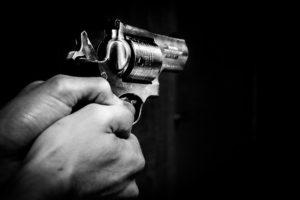 Individuals charged with violent crimes in Florida can face some of the most severe sentencing, including up to life in prison. Pinellas Park is an area prone to violent crimes, averaging 211 violent crimes per 1,000 residents.

Quite often, individuals accused of violent and weapons-related crimes are unaware of the legal options they have for pursuing their case. Our legal defense team at our St. Petersburg office contains some of the top 100 trial lawyers in the state, all of which are available to help you as your case moves forward.

If you or someone you know has been accused of a violent crime in Pinellas Park, contact us as soon as possible at (888) 484-5057 to see how we can help you protect your legal rights.