Santa Rosa County, FL (January 12, 2019) - Officers arrested a man in Santa Rosa County after he threatened to kill his neighbors "with kindness" using a machete.

According to the Santa Rosa County Sheriff's Department, citizens in the 6400 block of Bruce Lane became concerned after they heard screaming coming from a home in the neighborhood.  The residents told police that they heard Bryan Duane Stewart inside a home saying he was "going to kill 'em with kindness."  A concerned neighbor went to Stewart's house to investigate.

Once at the house, Stewart produced a small machete with the words "kindness" written on it.   He then attempted to stab the neighbor.  A second person intervened and received a cut on his hand from the machete.  Upon police arrival at the scene, it was noted that Stewart smelled of alcohol and showed signs of intoxication. He became confrontational with police.

Stewart was arrested and charged with aggravated assault with a deadly weapon and aggravated battery with a deadly weapon.
Violent Crimes in Pensacola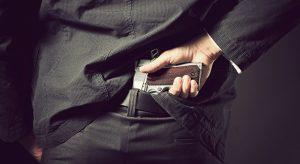 If you are facing a violent crimes charge in Pensacola, you could be looking at a very uncertain future.  A simple assault or battery is generally a misdemeanor which carries up to 1 year in the county jail.  Other types of assaults or batteries, however, including aggravated assaults and batteries are felony charges and bring much more serious penalties.  In Florida, aggravated battery involves the use of a deadly weapon and is a second-degree felony with a maximum prison sentence of 15 years.

In many violent crimes cases, you may have defenses available that can reduce or mitigate the seriousness of your charge.  Some common defenses include: self-defense, stand your ground, lack of intent to harm or mutual combat.  Each case must be carefully explored by an experienced Florida violent crimes attorney in order to ensure that you receive the best outcome.

At Musca Law, our skilled attorneys are standing by to help when you are facing a violent crimes charge in Pensacola or nearby areas.  We have over 150 years of combined experience and will work for you when you are facing times of anxiety and uncertainty about your future.  We offer free consultations for all cases.  To speak with an attorney, please contact us at (888) 484-5057.