Santa Rosa County, FL (January 14, 2019) – Police say that a 30-year-old man is now facing charges of aggravated assault after he threatened to kill someone with 'kindness,' which took the form of a machete knife with the word 'kindness' written on it.

Bryan Stewart was arrested after he cut his neighbor with a knife that had the word 'kindess' scrawled on it. The neighbor had come onto Stewart's property to complain about yelling and banging that they heard at his residence. Neighbors had been allegedly bothered by the noises coming from his residence throughout the day.

The victim heard another person in the household speaking with Stewart at which time Stewart then said that he was going to "kill the neighbor with kindness." The victim told police that he was concerned with the noises because there were a woman and child inside the home at the time.

Stewart opened the door, where the neighbor saw that the knife was pointed upward. Police indicated that the victim tried to step in the way of another person to block any attack, which caused a cut to the victim's hand.

Police arrived at the scene and noted that Stewart smelled of alcohol and police had to repeat things several times so that he would understand. He was also uncooperative when he was being arrested.

Now, Stewart is facing charges of aggravated assault with a deadly weapon, aggravated battery of a person with a deadly weapon, and other charges.
Santa Rosa County Aggravated Assault Laws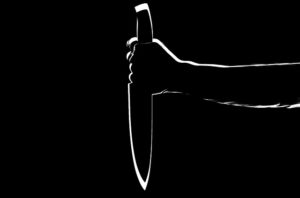 In Florida, aggravated assault is considered to be a third-degree felony, which comes with very serious penalties including 5 years in prison, probation time, fines, and other penalties if you are found guilty. This is why it is important to avoid one of these convictions with the help of an experienced attorney. If you have been charged with one of these violent crimes in Florida, we believe that you should have your rights fully defended and protected as you tell your side of the story in your case.

You've been charged with a crime involving a weapon and now the accuser in your case is saying that they felt threatened by your actions. You might be feeling frightened by the outcome of your case, but you should know that you have many rights as you defend yourself. Our attorneys at Musca Law have 150 years of combined experience in these cases and want you to know that there is a strong chance that your charges may be able to be reduced or even be dismissed as we work to aggressively defend you through this time of turmoil and strife in your life. Let us help you obtain proven case results so that you can help you move forth with your life once more. Contact us for more information at (888) 484-5057.