Sarasota, FL (February 16, 2019) - The Sarasota County Sheriff's Office has announced the arrests of 14 people in connection with a counterfeit check ring that targeted several local banks. Police say that the initial investigation began in March 2018, when they were alerted to several instances of fraudulent checks being cashed at Sarasota banks.

The transactions took place between December 2017 and May 2018. A total of over $130,000 was stolen from the banks during that time. At one point, the fraudulent checks were being cashed up to two to three times per day.

The names of those arrested were not released by authorities but the suspects are said to be from Tampa, Wesley Chapel, and Ocoee.

In addition to the transactions that occurred in Sarasota, several other transactions took place in other areas throughout the state. The total amount taken from all banks is believed to be approximately $275,000.
Sarasota Theft Crimes
Theft crimes in Florida must be taken seriously, especially when large amounts of money or property are involved. Under Florida law, theft is defined as the knowing or intentional taking of another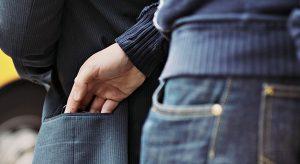 person's property with the intent to deprive the owner of its use.  Depending on the nature of the crime and amount of property taken, a theft can either be a felony or a misdemeanor. The most serious theft crime, first-degree grand theft, involves the taking of property valued at more than $100,000, carrying with it a prison sentence of up to 30 years and a possible fine of up to $10,000.

Regardless of whether the crime is a felony or a misdemeanor, anyone charged with theft must secure the best available representation. Thefts are crimes of dishonesty, and they reflect poorly on school and job applications. You may have difficulty in many areas of your life if you have any type of theft conviction on your permanent criminal record.

In many cases, our attorneys are able to work to have these charges reduced or altogether dismissed. At Musca Law, our Sarasota criminal defense attorneys will always have your best interest in mind when it comes to your case. We understand the process and we know how prosecutors and judges prefer to handle certain types of matters.

Let us put our knowledge to work for you. For your free consultation with a member of our team, please contact us at (888) 484-5057.