Sarasota, FL (January 30, 2019) – On Friday, one person was arrested after a series of bank robberies. He was identified through video surveillance as 32-year-old Terrance Goss.

At the time, Sarasota County Sheriff's deputies responded to the Centennial Bank on Fruitville Road to find that there had been reports of a robbery. The suspect allegedly entered the bank and handed the teller a note that said that he was demanding cash.

Deputies investigated and found that Goss committed another robbery the same day but in Lakeland. He also robbed a series of other banks in Clearwater and Largo. Goss was immediately arrested and booked in jail for the robberies.

Now, Goss is facing one single count of robbery along with charges from other police departments in the area. Goss has an extensive history of felony charges.

Goss remains in the custody of deputies at this time.
Sarasota Robbery Laws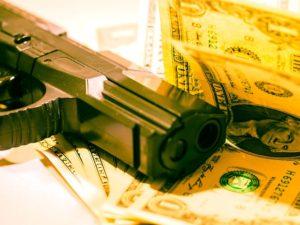 If you are facing a Florida theft crime such as robbery, armed robbery or strong-armed robbery, you might be in need of legal help so that you can defend yourself in a time that is crucial so that you can avoid serious penalties that can have a huge impact on your life. Depending on the circumstances of the case, you could be facing frightening consequences such as years in prison, fines, and the inability to retain social relationships or employment. When the evidence is stacked against you, you might wonder where you can turn. Luckily, even in these desperate times, a criminal defense attorney who has handled cases like these in the past can help you obtain the most successful case results.

If you have been charged because somebody has accused you of taking property without your permission, you could be facing any type of robbery crime. At Musca Law, we believe that defending you against a felony that can impact the rest of your life is especially vital to receiving results and moving forward. We understand how scared these charges can leave you feeling and understand that innocent people are charged every day because they don't know how to handle a police interview or handle themselves in a certain way. We understand the ins and outs of the criminal justice system and will help you through every step of the process. Contact us to find out what we can do for you at (888) 484-5057.