Spring Hill, FL (January 4, 2019) – In Spring Hill, a Florida man and his sister are now facing charges after they attacked their grandparents over money, according to police.

Authorities arrested both 21-year-old Monique Mariani and 23-year-old Angel Jose Mariani after they battered their grandparents at a home in Spring Hill. Allegedly, the pair had been living inside a tent in the backyard of their grandparent's property.

The grandparents had given money to Monique and her other sister. Angel then found out and demanded that his grandfather also give him cash. His grandfather refused and so Angel began punching him repeatedly until the older man was able to lock himself in a shed on the property.

The grandmother asked the grandchildren to leave, which is when Angel and Monique began punching and kicking her. Angel was able to force his way into the shed with his grandfather and vandalized multiple items while in there.

Monique and the other sister, who had an active warrant, were arrested nearby. Angel tried to run away and hide but through the use of a K-9 and air unit, they were able to catch him.

Angel and Monique received various charges of domestic battery, refusing officers, and more.
Spring Hill Domestic Battery Laws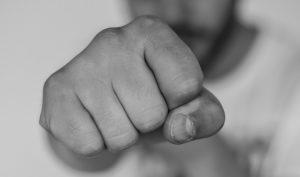 If you have acted in a violent manner toward a family or household member, you could be facing severe domestic battery charges. These crimes, typically charged as a first-degree misdemeanor, could lead to time in jail, probation, and various fines. You might find that there are many social impacts and difficulty retaining employment in the future, which could be frightening to you as you move forward. You might wonder how you will ever return to your normal everyday life after you have been charged with a violent crime in Florida, but there is hope on your side.

One of the first things you might consider following a domestic battery charge is trying to lessen your charges and move forward so that you can obtain your freedom after one of these severe charges. At Musca Law, our criminal defense attorneys have handled many of these cases and are interested in helping you explore your options as you lessen your charges, go through the expungement process, and more. We have helped many clients who were facing domestic violence charges in the past receive proven case results and would like to help you in your time of need. Contact us for more information at (888) 484-5057.