St. Augustine, FL (March 30, 2019) - A 41-year-old man from St. Augustine is behind bars after police say he pointed a homemade shotgun at a deputy.  Officers were called to Juarez Avenue, the home of Brad Timothy Germain, on Tuesday, March 26th.

When police arrived they were told that the person they were seeking had run behind the home.  Germain was found in the woods.  He allegedly pointed a pipe at the officers before being restrained in handcuffs.  Following his arrest, officers closely examined the pipe, discovering that it was actually a 12 gauge shotgun.  The gun contained a firing mechanism on one end and a live shell inside the other.

Germain was arrested and charged with attempted murder of a law enforcement officer, possession of a firearm by a felon, resisting arrest with violence and a probation violation.  He was taken to the St. Johns County Jail following his arrest.
St. Augustine Firearms Laws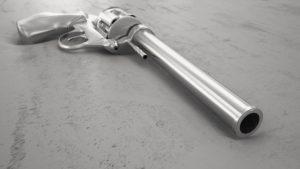 Being in possession of a firearm is a Florida weapons crime that can land you in serious trouble.  While it is legal to carry a firearm under any circumstances, in some cases it is not.   If you are a previously convicted felon, you will be prohibited from owning or possessing a firearm.  A felon who is found in possession of a firearm will face an additional felony charge and is looking at years in prison.  When a firearm is threatened in the use of a criminal offense, the charges are usually among the most serious that can be brought in our justice system.

If you have been charged with a firearm offense or another Florida violent crime, you should obtain experienced and qualified counsel as soon as possible.  These charges place you in jeopardy of losing your job, losing your livelihood and landing you in prison for a substantial period of time.  At Musca Law, our Florida criminal defense attorneys have a strong reputation for fighting to protect the rights of our clients.  We firmly believe that everyone charged with a crime deserves the best possible defense that they can get.

Our St. Augustine criminal defense lawyers are standing by now to assist you.  For a free consultation regarding your case, give us a call at (888) 484-5057.