Tallahassee, FL (December 22, 2018) - A man from Tallahassee faces several felony drug charges following a traffic stop on Wednesday, December 19th.

Around 3:00 pm, officers with the Tallahassee Police Department observed a silver Infiniti speeding and driving recklessly within the city limits.  Police then initiated a traffic stop.  As they approached the vehicle, officers observed two bags of crack cocaine in plain view in the driver's side of the vehicle.  Further search of the car revealed nearly $1,200.00 in cash that was placed inside a jacket.

The driver was identified as 22-year-old Quanterrius Thomas.  Upon a search of Thomas, police discovered an additional $473.00 in cash inside a pocket.  A total of 9 grams of powder cocaine, 6 grams of crack cocaine and 22 grams of spice were seized from the vehicle.

Thomas was charged with possession of cocaine, and possession with intent to sell.  He was placed under arrest and taken to the Leon County Detention Facility.
Tallahassee Drug Laws
A drug charge in Tallahassee can come with severe consequences.  In Florida, it is a felony to possess a drug or controlled substance with the intent to sell.  It is also a felony to merely possess certain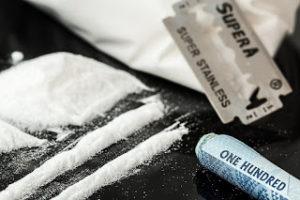 controlled substances.  The possession of cocaine is a third-degree felony.

If you are facing a felony drug charge in Tallahassee or surrounding areas, it is important to secure the best representation possible.  In a case of possession with intent to sell, the prosecutor must prove that you actually intended to sell the drugs found in your possession.  In these types of cases, the evidence of intent to sell is often circumstantial and may be weak, making this a difficult crime to prove.  In some instances, defendants are harshly charged only to discover later that the evidence does not actually support many of the charges that were initially brought.

Drug laws are complicated and a conviction can have long-term consequences for your future.  If you are facing a drug crimes charge, you should never attempt to represent yourself or go with an inexperienced attorney.  At Musca Law, we have over 150 years of combined experience in Florida criminal defense.  We want to use our experience to your benefit.

For your free consultation, please contact us at (888) 484-5057.