Vero Beach, FL (July 28, 2019) - A man walking along a road in Vero Beach was arrested this week after pointing a BB gun at several passing cars.
According to reports, 35-year-old Antwon Paulk was walking in the 5300 block of State Road 60 on Sunday, July 21st.  Around noon, police received a report that Paulk was spotted pointing a gun at several cars, including one vehicle being operated by an off-duty police officer.  The off-duty officer alerted police to Paulk's behavior.
When an officer arrived on the scene, he drew his service weapon and ordered Paulk to get on the ground.  Paulk was apprehended without incident.  Further investigation revealed that Paulk was carrying a BB gun.  After his arrest, Paulk told officers that he "didn't do anything" and that the gun was a BB gun.
Paulk has been charged with improper exhibition of a firearm, aggravated assault with a deadly weapon, and not having a concealed weapons permit.  He is currently being held at the Indian River County Jail under no bond.
Vero Beach Weapons Crimes
Possession of a firearm is a charge that is taken very seriously in Florida.  Due to the deadly nature and risks of improper use, Florida weapons charges can result in harsh punishment if you are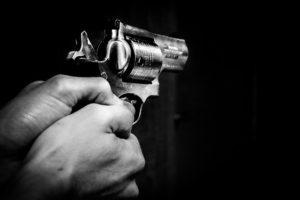 convicted.  A weapons charge can either be a misdemeanor or a felony depending on the particular circumstances of your case.  Aggravated assault with a deadly weapon is one of the most serious charges and bring up to 20 years in prison upon conviction.
Due to the severe consequences of many weapons charges, it is important to have an experienced Florida criminal defense lawyer on your side at the earliest possible stage in the process.  A successful weapons crime defense can involve many strategies.  In some cases, you may be able to claim self-defense.  In other cases, you could be the target of mistaken identification, or there may be any number of other issues that can be utilized in your defense.
At Musca Law, our attorneys stand ready to help you regardless of the situation you are facing.  Our Vero Beach criminal defense team will help get the results you need to secure your future.  For a free consultation, please call us 24/7 at 888-484-5057.