West Palm Beach, FL (March 1, 2019) – Police reported that a race car driver from South Florida, Davey Hamilton, held his ex-girlfriend at knifepoint when he was in her hotel room.

Now, police say the 21-year-old is facing charges of aggravated assault with a deadly weapon and false imprisonment. Hamilton allegedly manipulated his way into a hotel room occupied by his ex-girlfriend, identified as Angelica Hickey. He apparently posed as the owner of a vodka company and made her believe that he was going to make her into a brand ambassador.

Hamilton communicated with Hickey over text and told her that he was the owner of Monkey in Paradise. He lured Hickey to travel to a hotel with the promise of $5,000. However, when Hickey arrived at the hotel, she was told that her room key was under the door and Hamilton told her to get "ready." When she was in the shower, Hamilton broke into the room and opened the shower curtain, where he threatened Hickey with a knife.

While Hickey got out and sat on the bed, Hamilton held the knife and pointed it at her, standing in between her and the door so that she was unable to leave. Hamilton accused Hickey of cheating and started questioning her about the end of their relationship.

Eventually, Hamilton told Hickey to get dressed, which is when she took the opportunity to run out of the room and scream for help. Hamilton escaped the hotel room but was soon taken into custody by police.

During questioning, Hamilton told police that he never intended to hurt Hickey and was just trying to scare her. Hamilton also admitted that he used cell phones to manipulate Hickey and make her believe that she was meeting with somebody else.
West Palm Beach Aggravated Assault Laws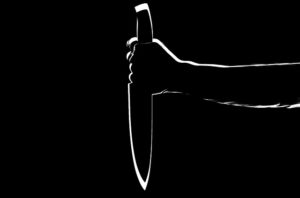 Being charged with a violent crime in Florida is a matter that should always be taken seriously. Many violent crimes are seen as felonies, which can carry prison sentences and impact you for quite some time. You might find yourself facing the reality that you will have a permanent criminal record, might be barred from certain jobs, or will find that there are many social impacts that come with these crimes. Prosecutors and judges tend to take a tough approach to these cases when a defendant is facing a violent crime, especially Florida crimes involving weapons. This means that you might find yourself in the midst of harsh penalties and wonder where you can turn.

Because our attorneys want to help you achieve the best case results in this desperate time, we at Musca Law will work in your best interests to secure the services you need to get through this difficult time and defend yourself entirely. Our attorneys have assisted thousands of people who are facing violent crime charges and the serious consequences that tend to come with them. We understand how difficult it can be and want to stand by your side. Contact us to find out what we can do for you in your time of need at (888) 484-5057.