West Palm Beach, FL (March 16, 2019) - A 27-year-old man was arrested after he brought an AK-47 to his son's school on Monday, March 11th.

Christopher Freeman arrived at Bear Lakes Middle School around 4:00 pm and as angry over an incident in which he says his son was "slammed" by a teacher.  Freeman's son had received a tearful FaceTime call from his son earlier that afternoon before showing up at the school.  After receiving the phone call, Freeman is said to have called the assistant principal and said "you're all dead."

Freeman then arrived on campus and was met by a police officer.  The officer noted that Freeman was in a wheelchair and had the handle of a handgun protruding from his pocket.  Freeman was upset and verbally abusive.  The officer detained Freeman until other officers arrived and searched him.  Police located an AK-47 Mini Draco pistol in Freeman's pants pocket with a bullet in the chamber and an extended magazine.  Freeman told police that he purchased the gun about a year ago and that he did not intend to harm anyone.

He was arrested and charged with possession of a firearm on school grounds, aggravated assault with a weapon and disrupting a school function.  His bond was set at $75,000.
West Palm Beach Violent Crime Laws
A violent crime in West Palm Beach is a serious charge.  Charges involving the possession of a weapon are likely to be treated harshly and prosecuted to the maximum extent of the law.  This is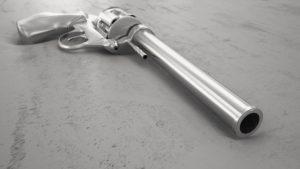 especially true when the case involves any type of weapon possession on school grounds as we see here.  A weapons possession charge can land you in prison and can result in a restriction of your rights to carry firearms in the future.

At Musca Law, our Florida criminal defense attorneys have your back when you are facing a violent crime or weapons charge in West Palm Beach and throughout Florida.  We bring over 150 years of combined experience to each case and we will be there to assist you during your time of need.  Our team will ensure that you have the best possible defense available and will fight for you in court.

Our West Palm Beach criminal defense attorneys are standing by to help.  For a free consultation, please contact us 24/7 at (888) 484-5057.