West Palm Beach, FL  (December 14, 2018) – 28-year-old Johnathan Ramon Vela was charged with first-degree murder for the death of 67-year-old Lazaro Orgaz Penerio.  The shooting occurred on Saturday night, Dec 8th.  

The Palm Beach County Sherriff's office was called after a shooting that occurred at 7:30 pm on Saturday evening in the neighborhood of the Royal Palms Estates near Haverhill Rd.  Reports indicate that Lararo Orgaz Penerio had come outside with his son and engaged in an argument over parking dispute with Vela. Allegedly, Vela walked over to his vehicle and grabbed his .380 caliber handgun and shot the victim in the side of his head. Vela also fired his gun at Orgaz Penerio's son, who chased him after the shooting. The shooting occurred near the home of the victim but Lazaro Orgaz Penerio was driven to the hospital by someone he knew where he passed away from his injuries.

Police did not have to search long for the shooter. He was located passed out in the back seat of a vehicle covered in blood that was being driven by two women when they were pulled over for a violation at around 10 pm that same night.   The police located a .380-caliber handgun hidden under the back seat where he was passed out.  Vela was taken into custody Saturday night and was initially charged with possessing a concealed weapon.  

On Wednesday, authorities added additional charges to the ones he was previously arrested for.  He has been in police custody since Saturday night on concealed weapons charges but Wednesday additional charge of first-degree murder and aggravated assault with a firearm were filed against him.
West Palm Beach First-Degree Murder Laws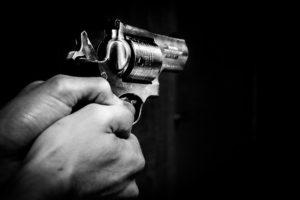 This is the 100th homicide this year that took place in Palm Beach County.  The punishments for one of these crimes are severe.  You may be facing a long prison sentence and more.  In the most extreme cases, you could even be facing the death penalty. Being charged with a Florida murder crime can be one of the most complicated and frightening times of your life, which is why you need an experienced criminal defense attorney defending your rights every step of the way.

If you have been charged with a violent crime in Florida, you could be facing huge impacts on the rest of your life. Because of the severe nature of these crimes, you need an experienced attorney to stand by your side and defend your rights through these difficult times. We have more than 150 years of combined experience handling complex criminal cases.  We have helped hundreds of Florida residents and have the case results to prove it. Contact us today at (888) 484-5057 to find out how we can help.