Fenney, FL (November 16, 2018) – Police say that a villager was arrested in Fenney on a weapons charge when he displayed a gun to another individual during a heated dispute. The incident happened on Wednesday, November 14.

The man who was arrested was identified as 57-year-old Martin Lewis Levine, who police arrested on Whitetail Avenue for aggravated assault with a deadly weapon. He had been involved in an altercation with another person whose dog had been running loose around the neighborhood.

When the two were arguing, he claimed that Levine raised his shirt and showed the man that he had a black handgun on him. He then proceeded to curse at the man and threatened to shoot the owner in the head. Multiple people witnessed the incident.

Levine admitted that he showed off the weapon in the dispute. He was taken into custody by police.
Fenney Aggravated Assault Laws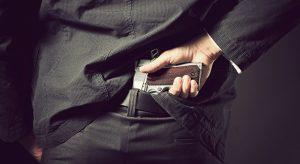 Any type of crime where violence is incited will typically end in serious results for those who are accused. Aggravated assault crimes are considered to be a dangerous crime involving a party who threatens another party or follows through with an actual assault involving a weapon. These crimes are prosecuted harshly under the law, which means that you could experience penalties of a prison sentence of up to five years or a fine of up to $5,000.

At our Orlando location and beyond, we see many cases involving aggravated assault every year and help the suspects of these crimes as we vigorously work through the details of your alleged crime and help you work toward case results you can rely on. At Musca Law, we have over 150 years of combined criminal defense experience, which means that we have a team that goes to work for you immediately after our first meeting when we get to know the details of your case. Our focus is you and helping you show your side of the story so that you can move forward after these serious accusations. Contact us today at (888) 484-5057, as we are waiting to hear from you.