Key Largo, FL (January 27, 2019) - A homeless man in Key Largo has been arrested in connection with a pellet gun incident involving teenagers.  Everett Alan Coulter was taken into custody on Friday, January 25th.

According to spokesman Adam Linhardt of the Monroe County Sheriff's Office, the teens were leaving a Family Dollar store around 6:00 pm when they saw Coulter riding one of their bicycles.  The teens chased after Coulter.  During the course of the chase, Coulter got off of the bicycle and produced a pellet gun.  He pointed the gun at the teens, who then fled the scene and contacted police.

Officers responded and located Coulter near a Walgreens pharmacy.  The pellet gun was recovered under a pile of leaves close to where Coulter was found. Coulter later admitted to using the gun to threaten the teens.  He was charged with aggravated battery without intent to kill.
Key Largo Aggravated Battery Laws
Aggravated battery in Florida is a second-degree felony and is punishable by a term of up to 15 years in prison.  Those convicted of this charge can also face up to 15 years of probation and a fine of up to $10,000.  A person convicted of aggravated battery is also looking at a lifetime of being a convicted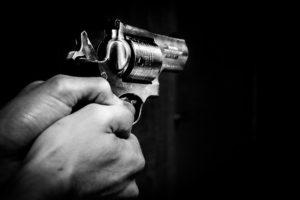 felon, a status which can have long-term consequences well beyond the initial years after the conviction.

A good Florida criminal defense lawyer can explore the facts of your case and help you come up with a solid case strategy to protect your future.  In some cases, this may mean that the charge goes to trial before a jury.  In other cases, a pretrial negotiation with the prosecutor may lead to dismissed or reduced charges and it will be in your best interest to accept a pre-trial resolution.

At Musca Law, our Florida criminal defense attorneys are here for you if you are facing a charge of aggravated battery in Key Largo and elsewhere throughout the Florida Keys, including Key West. We will not allow the prosecution to simply run you through the system and obtain a conviction.  Our team will ensure that your legal rights are protected at each step of the process.

For your free consultation, please contact us at (888) 484-5057.