Naples, FL (March 23, 2019) - A Naples man is behind bars after police accused him of stealing $500 worth of beer from a local Wal-Mart.

The Collier County Sheriff's Office arrested 55-year-old Gerard Antonio Intindola on Thursday, March 21st.  Officers say that Intindola entered the store on Collier Boulevard, loaded a shopping cart with beer and then walked out of the store without paying for the items.  Intindola is accused of doing this three times that same day before he was apprehended and arrested.  Intindola would exit the store through the garden center area in an attempt to avoid detection.

Intindola has a history of theft-related offenses.  In October of 2018, he was convicted of stealing a 65-inch television and meat.  He was also previously convicted of stealing over $1,000 worth of tools from a Lowe's hardware store.  Intindola was charged with grand theft and placed in the Collier County Jail, where he is being held under of $15,000 bond.  His court date is set for April.
Naples Theft Crime Laws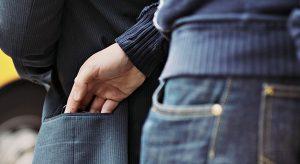 A theft crime can quickly turn into a very serious charge.  Depending on the value amount attached to the items that were taken and the nature of those items, many theft crimes in Florida are classified as felonies.  These charges can mean a prison sentence of many years and the status of a convicted felon.  Even a misdemeanor theft charge can have negative impacts on your personal and professional life.  A theft conviction on your permanent criminal record can certainly limit your future opportunities and may disqualify you from consideration for certain types of employment.

If you are facing a theft charge in Naples, our Florida criminal defense attorneys at Musca Law are here to help.  We strongly believe that everyone is entitled to a vigorous defense and that you should always be given the benefit of the doubt when authorities have accused you of committing a crime.  We will work tirelessly to protect your record and your reputation when both are on the line.

We have two offices in Naples for your convenience.  To speak with one of our Naples criminal defense lawyers, please call us 24/7 at (888) 484-5057.