Naples, FL (March 2, 2019) - A man from Naples was arrested on Thursday, February 28th, in connection with a stabbing outside of a retail store on Wednesday.

34-year-old Kenneth Wilkinson met Ronald Ankney and his girlfriend, Brooke Smith, while shopping at a Dicks Sporting Goods with his friend Atiba Walden. The four went to a parking lot where an altercation ensued resulting in Ankney being stabbed.

According to Walden, Ankney was verbally aggressive towards Wilkinson and accused him of shoplifting. Walden then said Wilkinson became angry, punched Ankney twice, and then stabbed him before fleeing. Smith added that she saw Wilkinson produce a knife from his shorts before stabbing Ankney in the back.

Wilkinson claimed that he acted in self-defense. Deputies, however, did not notice any wounds or other evidence indicating that Wilkinson was in a defensive posture at the time of the stabbing. Wilkinson was taken into custody on charges aggravated battery with a deadly weapon.
Naples Aggravated Battery Laws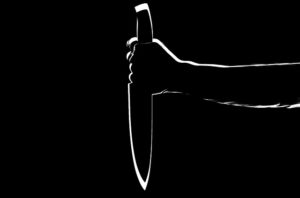 Aggravated battery with a deadly weapon is a very serious Florida violent crime. Those facing this charge are looking at a third-degree felony, with the possibility of up to five years in prison and five years of probation. Aggravated battery is a charge which will normally be prosecuted to the full extent of the law and those convicted could expect that they will be sent to prison, in addition to being a convicted felon.

If you are facing this charge, you are naturally anxious about your future and wondering what may happen next. In a case of aggravated battery, you may have several defenses available to you. One common defense in these cases is self-defense. If your battery was committed during a situation in which you felt threatened and were defending yourself or others and you used reasonable force to stop the situation, you could not legally be convicted of aggravated battery. Self-defense claims can excuse your conduct, even if it would otherwise constitute a battery. In addition, there could be other facts and circumstances that could be used to mitigate your charge.

At Musca Law, our Naples criminal defense attorneys stand ready to assist no matter what type of charge you are facing. We have the local knowledge, skills, and experience to help you mount a successful defense to a violent crimes charge. For your free consultation, please contact us at (888) 484-5057.