Naples, FL (July 7, 2019) - The Collier County Sheriff's Office has arrested a 63-year-old man accused of walking the streets naked.  Police announced the arrest of Jose A. Islas on Thursday, July 4th. 
According to deputies, Islas was seen walking naked along US 41, near a Walmart and ABC Wine & Spirits store.  An ABC liquors employee called 911 after spotting Islas.  Police also received a call from an individual at Wal-Mart.  
When deputies responded to the calls, Islas had already left the scene.  After a brief search of the area, he was found nude sitting on a nearby beach.  Upon being interviewed, Islas told police that he took off his clothes because he was "hot and dirty."   Islas was taken to the Naples Jail Center and held under no bond following his arrest.  He was officially charged with Indecent Exposure in Public.
Naples Sex Crimes Laws
The crime of indecent exposure is committed when a person intentionally exposes their genitals in a public place in a lewd or lascivious manner.  The crime is considered a first-degree misdemeanor that is punishable by up to one year in prison.  If children under 16 are present during the exposure, the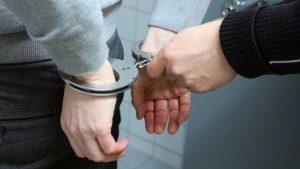 crime becomes more serious and is elevated to a felony.  
Florida sex crimes prosecutions can be some of the toughest to deal with in our state.  Those convicted of Florida sex offenses often face a variety of penalties.  In addition to jail time, a person convicted of a sex offense in Florida faces the possibility of having to register as a sex offender for the rest of their lives.  As a registered sex offender, there are strict limits on your freedom and where you can be at any given time.  It is illegal, for example, for some sex offenders to live within 1,000 feet of a school, childcare facility, park or playground.  
If you are facing a Florida sex crime charge, it is certainly in your best interest to seek aggressive representation right away.  At Musca Law, we have over 150 years of combined experience and we understand the strategies and tactics typically used by the prosecution in sex crimes cases.  Our Naples criminal defense attorneys are standing by to take your call now.  
For your free consultation, please contact us 24/7 at (888) 484-5057.