New Port Richey, FL (June 16, 2019) - A 48-year-old man from New Port Richey was arrested on Tuesday, June 11th after he got into a fight with his roommate. 
According to Pasco County Sheriff's Deputies, 48-year-old Byron Christianoudis wanted to take a shower when he was told by his 70-year-old roommate that he could not take a shower.  The roommate allegedly told Christianoudis that he takes too many showers.  A verbal argument ensued between the two men, which eventually led to Christianoudis placing the man in a headlock and scratching his face, causing a laceration.   
When Christianoudis was arrested, he admitted to the physical altercation but told police that he was defending himself and that he felt threatened.  He was charged with battery on a person over 65 years old.  There is no information on whether he remains in jail at this time.  Christianoudis's roommate was not identified by police. 
New Port Richey Violent Crimes Laws
A Florida violent crime is generally any type of physical assault or battery on another person.  While an assault is considered the threat of physical harm, a battery is an actual touching of another person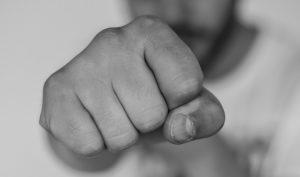 without that person's consent.  Under Florida law, there are several types of battery offenses.  Battery against a person over 65 is a more serious charge that carries higher penalties than a standard battery offense. 
If you have been charged with a violent crime, including assault or battery, you should immediately seek out a reputable and experienced Florida criminal defense lawyer to assist you with your case.  Self-defense claims are commonly raised in cases where there are accusations of unwanted touching.  Under the self-defense doctrine, you may be found not guilty of striking another person if you did so in reasonable fear for your safety.  The outcome of each case is very dependent on the facts and a knowledgeable attorney can help plan and prepare your strongest defense.  
At Musca Law, we bring over 150 years of combined experience to your case.  We have offices in New Port Richey and can assist you here as well as surrounding areas throughout Pasco County.  For your free consultation, please give us a call any time at (888) 484-5057.